There are search tools and then there are SEARCH TOOLS. Any Linux user that has ever needed real power for their searches generally has to resort to the command line where they can take advantage of regular expressions or scripting. But what if you could have a GUI tool that could also handle regular expressions? There is such a tool – SearchMonkey. SearchMonkey attempts to bridge the gap between Beagle and locate/find by adding a powerful regular expression builder to...
L'esperienza ventennale nel settore arte e nuove tecnologie di Ariella Vidach – AiEP (Milano) e Avventure in Elicottero Prodotti (Lugano) ha portato alla creazione di "Tec-Art-Eco", arte e tecnologia per l'ambiente, ideato per sensibilizzare sul potenziale degli strumenti tecnologici a un vasto pubblico e, attraverso l'applicazione artistica delle nuove tecnologie, analizzarne l'uso comune e le sue implicazioni nonché l'impatto...
Per molto tempo relegate ad un ambito di nicchia, le stampanti multifunzione si sono progressivamente ricavate il loro spazio nel mercato, sfruttando la caratteristica di essere prodotti di confine tra il mondo amatoriale e quello semi-professionale. In un unico apparato ed in uno spazio ridotto è infatti possibile disporre di una stampante, un fax ed uno scanner, strumenti che, con l'ausilio di un PC o, meglio ancora di un notebook/netbook, possono trasformare la vostra scrivania...
The Microsoft Bing development team is trying to distinguish their search engine from Google by adding new features to their search engine. The latest feature that the team is developing goes by the name Bing & Ping. It has been designed to offer Bing users better options to share search results. This feature resembles the "social" buttons that are displayed on blogs and other websites. Bing & Ping integrates Facebook, Twitter plus email and copy options in the Bing...
Firefox opens the bookmark manager (which is officially called library) in a new window by default. I always felt that this was kinda weird as it meant to navigate back and forth between the web browser window and the bookmark manager. One could try to place the two windows next to each other or display the bookmarks in the sidebar instead but it always nagged me why there was not an option to display the bookmark manager in a tab instead of a window. Places in Tabs changes this. It is...
Io trovo da sempre questa operazione oltre che inutile anche in parte dannosa per l'uso abituale perchè in questo modo non sappiamo e non possiamo, con un'occhiata, stabilire se siamo di fronte ad un collegamento. Ma dal momento che è una cosa che è di moda, metto il tip facendo attenzione perchè altre metodiche viste sulla rete possono far sparire l'anteprima che compare mettendo il mouse sulle icone della barra applicazioni: Create un file *.reg copia incollando...
Vi siete mai chiesti quali sono le chiavi di ricerca più strampalate, comiche e bizzarre inserite in un motore di ricerca? Ebbene il web 2.0 sopperisce anche a questa mancanza, con la creazione di un sito nel quale queste perle vengono raccolte. Il sito si chiama Slotmascin e l'invito a partecipare risuona eloquente: Lascia nei commenti ai vari […] Post correlati: Motori di ricerca Dogpile, motore di ricerca furbo test per le dita più veloci del mondo Continua a leggere...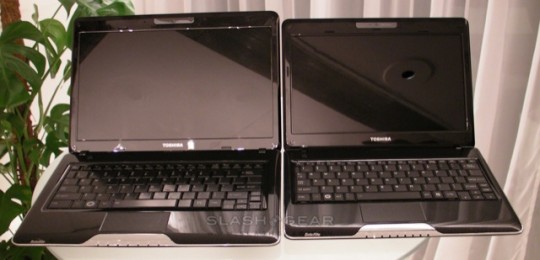 Due nuovi rilasci, in casa Toshiba, nome storico del settore dei PC portatili e produttore della famiglia Satellite: T115 e T135. Entrambi sono equipaggiati con processori Pentium o Celeron di Intel, sia single che dual core (CULV) e chipset sempre realizzato dall'azienda di Santa Clara. Il design è moderno e, in linea con gli ultimi dettami stilistici, lo spessore è ridotto: poco più di 2 cm. T115 è nella realtà un notebook con le dimensioni di un...
Most wallpapers are downloaded to a computer system or created by using a photo or image that is already on the system. The portable software program Wallpaper Generator offers another possibility. It can create gradients that can then be used as the wallpaper on the local computer system. The software comes only with a few options which makes it very easy to use. Colors are displayed on each corner of the interface which determine how the gradients will look like. A click on a color will...
Although integration has become widespread, there are instances when you might want a separate tool for organizing your life. Say, for instance, your company requires you use Zimbra, eGroupware, or Outlook for company calendaring and contacts. What if you want something on your machine to organize your life – that doesn't require an online connection, is simple to use, and has a tiny footprint. If that's you, OSMO is the tool you've been looking for. OSMO is not...